Replay of 2020 ESD Alliance CEO Outlook Panel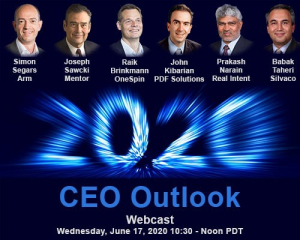 The ESD Alliance CEO Outlook was held on June 17, 2020.
This year's informative event, featuring six prominent industry CEOs, was conducted as a virtual event, generously hosted by Arm.
Ed Sperling, editor in chief of Semiconductor Engineering, moderated this year's panel, which included:
Simon Segars (Arm)
Joseph Sawicki (Mentor, a Siemens Business)
Raik Brinkmann (OneSpin)
John Kibarian (PDF Solutions)
Prakash Narain (Real Intent)
Babak Taheri (Silvaco)
The panelists discussed the impact of COVID-19 on our industry, the rising cost of chip design, and many other topics. SemiEngineering has published the panelists' remarks in a series of articles. You can read parts one and two on the SemiEngineering website by following these links: 2020 CEO Outlook and Chip Reliability Vs. Cost.
The entire video recording can be seen here on the ESD Alliance website: 2020 ESD Alliance CEO Outlook.
---