Design IP for Automotive SoCs: Trends and Solutions
The number and complexity of automotive SoCs and Control Systems is growing dramatically to fill the demand for new features in next-generation vehicles.  Let's look at the specifics. In new cars you will have an advanced graphical user interface, voice recognition, and intuitive touchscreen capabilities. In addition to driver interactions, electrical control systems assist in both driving and stopping the vehicle. This will drive significant growth of the In-Vehicle Network (IVN) semiconductor market. In 2019, the total market in automotive semiconductors will reach 38 billion US dollars. By 2021, the cumulated annual growth rate (CAGR) for Level 4 Semi-autonomous vehicles will be 19%. Longer range projections are needed for Level-5 autonomous vehicles which have not arrived in the marketplace as yet. By 2030, the CAGR forecast for Level-5 vehicles is 41%. All of this is good news for the electronics industry. Which electronic companies are the top players? NXP, Infineon, Renesas, STMicroelectronics, and Texas Instruments had 1/2 of the market for automotive semiconductors in 2015 and are still market leaders.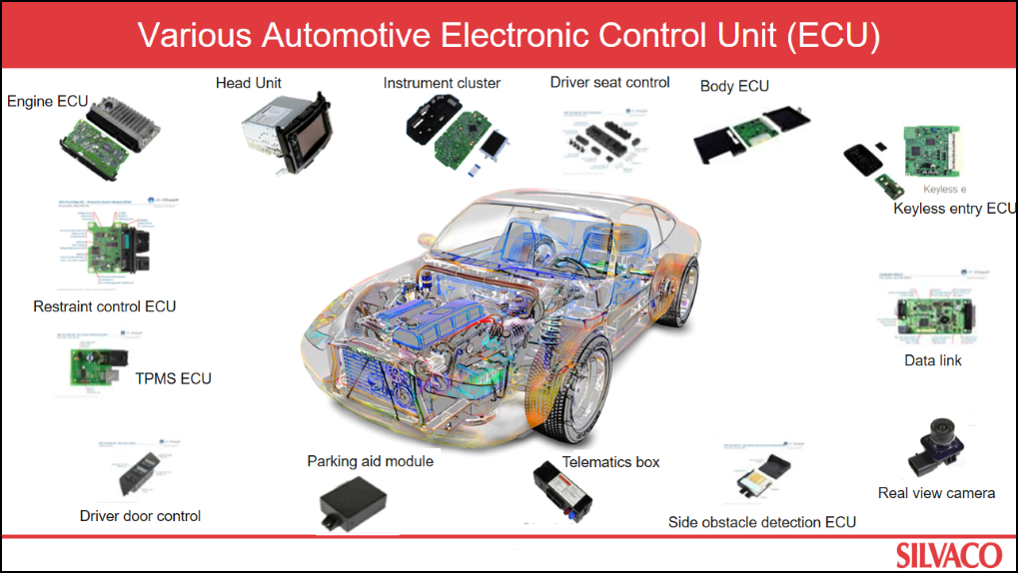 Automotive electronic control units (ECUs) are the embedded systems that control a vehicle's functions related to engines, infotainment systems, and the new autonomous driver assistant system (ADAS). These units are distributed through the vehicle. ECUs use the data received from installed sensors, antennas and drive-train components. ECUs have been used in vehicles for many years.  What is boosting the growth of the automotive ECU market is the increasing adoption of advanced safety systems and driver assistance functions such as blind spot detection and automatic emergency braking. Luxury vehicles use large digital displays connected to both infotainment systems and vehicle monitoring. This has become a must-have feature to maintain a company's position in the luxury car market. And a final area that is growing is the use of new kinds of power electronics in the all-electric and hybrid vehicles. The main ECU sub-segments are safety systems, powertrain, automotive audio & video, chassis system, and body electronics. These 5 segments share 18-25% of the market and in total cover 85% of the in-car ECUs market.
What about China? Chinese automotive semiconductor market size was 5.62 billion dollars in 2015, sharing 15% of the global market. It is expected to hit above 12 billion dollars in 2025. The growing car demand has caused new tighter regulations to be introduced China government which is leading automotive companies to start reducing the number of ECUs in a vehicle. The regulations focus on maximizing the sales of new energy vehicles, including plug-in hybrid and fully electric cars. This has resulted in a positive technological shift toward combining various ECU systems into one single unit, a central control unit to save cost and space, and improving fuel emissions and vehicle performance.
There are several IVN network types and protocols used in vehicles by various manufactures. FlexCAN-FD is an embedded network architecture that extends the Controller Area Network (CAN). It is similar to CAN but has better capabilities for deterministic behavior to provide increased reliability in car control applications. CAN is an inexpensive low-speed serial bus for interconnecting automotive components. LIN is a Local Interconnect Network that provides a very low cost in-vehicle sub-network.  FlexRay is a general-purpose high-speed protocol with safety-critical functions.
What is popularity of the different IVNs? By far, CAN and LIN protocols are the most deployed in the industry. LIN serves an increasingly important role in providing low-cost feature expansion in modern vehicles such as door locks, climate, seat belts and sunroof. As such, LIN bus has exploded in popularity in the last decade with more than 700 million nodes. It's expected that LIN and CAN-FD bus clusters will remain vital as the low cost solution for an ever increasing demand for features in modern vehicles. However, it should be noted that both have cyber security concerns and do not solve these potential risks.
Silvaco sells, delivers and supports high value silicon-proven intellectual property (SIPware) from major semiconductor companies. All our SIPware is fully packaged and easy-to-use. We currently offer the following SIPware titles
In the future, we will continue to see the number and complexity of automotive SoCs and Control Systems growing to fill the demand for new features in next-generation vehicles.