Silvaco Group Acquires edXact for SPICE Simulation Speed-up
Strengthens SPICE Portfolio by Adding Advanced Parasitic Reduction to Boost Performance with High Accuracy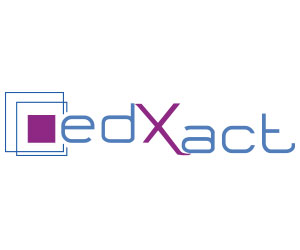 Santa Clara, California – June 2, 2016 – Silvaco, Inc. today announced its wholly owned French subsidiary, Infiniscale SA, has acquired a majority stake in edXact, an innovator in parasitic reduction for integrated circuits. The edXact technologies complement Silvaco's advanced node portfolio including SPICE simulation, 3D RC extraction for SRAM, and variation analysis solutions for analog and memory designs.
With the continuing advancement of semiconductor process technology comes an exponentially rising number of circuit elements that must be modeled to accurately measure the impact of parasitic effects on circuit performance. The use of double patterning lithography techniques, increasing number of metal layers, and FinFETs all increase the parasitic effects that must be analyzed. Without innovations to handle this complexity, traditional simulation runtimes are becoming impractical, often forcing users to sacrifice accuracy to gain back usable performance. But insufficient accuracy can lead to silicon failures, creating a dangerous tradeoff.
Incorporated in 2004 in Grenoble, France, edXact's Jivaro product delivers unparalleled netlist reduction capabilities for all types of parasitic netlist components. When paired with a high performance simulator such as Silvaco SmartSpice, this technology dramatically reduces simulation run time and memory usage, with no accuracy loss. Jivaro has significant adoption at leading IC design companies and is seeing increasing demand.
"EdXact's technologies are a welcome addition to Silvaco's portfolio of tools to accelerate circuit simulation," said Dave Dutton, CEO of Silvaco. "The acquisition also further expands our European operations in Grenoble, an important integrated circuit research center location. EdXact's impressive customer base complements Silvaco's, and helps us advance our growth objectives."
In addition to Jivaro, edXact's Viso and Belledonne also fit well with Silvaco's product direction. Viso provides point to point analysis of interconnect parasitic problems, which is becoming critical during advanced node layout. Silvaco recently introduced InVar Prime in this space, and the addition of Viso and the edXact team brings new technology and a larger team to solve the challenges faced by customers.
Belledonne helps silicon fabs and foundries speed up delivery of RC extraction decks and qualify LPE tools for their customers. As Silvaco already works closely with these companies on their TCAD and SPICE modeling, Belledonne is a natural fit for advanced node PDK development.
"The combination of edXact's reduction and Silvaco's simulation technologies is a powerful one," said Joel Alanis, interim CEO of edXact. "These synergies plus the ability to leverage Silvaco's Grenoble and global infrastructure will help us scale out these important technologies to customers worldwide."
About Silvaco, Inc.
Silvaco, Inc. is a leading EDA provider of software tools used for process and device development and for analog/mixed-signal, power IC and memory design. Silvaco delivers a full TCAD-to-signoff flow for vertical markets including: displays, power electronics, optical devices, radiation and soft error reliability and advanced CMOS process and IP development. For over 30 years, Silvaco has enabled its customers to bring superior products to market at reduced cost and in the shortest time. The company is headquartered in Santa Clara, California and has a global presence with offices located in North America, Europe, Japan and Asia.
Press/Media Contact:
Silvaco press@silvaco.com