Silvaco Extends SPICE Product Portfolio to Address Advanced Variation-Aware Design with Acquisition of Infiniscale
Fast Monte Carlo, High Sigma Analysis and Standard Cell Verification Products Help Customers Maximize Yield and Performance in Shortest Time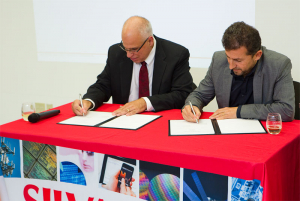 Santa Clara, California – December 15, 2015 – Silvaco, Inc. today announced the acquisition of Grenoble, France-based Infiniscale SA, a leading provider of EDA solutions for variation-aware design of standard cells, memory, analog/RF and mixed-signal products. Infiniscale's software suit that addresses the industry's emerging design for yield (DFY) challenges includes:
a unique fast Monte Carlo (MC) simulation that accelerates brute force MC analysis up to over 30 times while allowing the designer to use a familiar usage flow,
a robust high-sigma analysis that provides highly accurate yield estimation beyond seven sigma, with the ability to handle non-linear behavior and large designs such as SRAM cell arrays,
a statistical functional verification capability for standard cell libraries over process, voltage, temperature, load and statistical corners, with greater than 10 times the speed of brute force MC without compromising accuracy.
"The increased variability associated with advanced processes result in increased yield risks that designers need to mitigate while they strive to meet aggressive power, performance and area goals," said Infiniscale's Chief Executive Officer Dr. Firas Mohamed. "Infiniscale invented a second generation of Monte Carlo analyses that helps designers meet these increasingly stringent goals, with a user-friendly variation-aware design methodology. We are proud of the opportunity to be part of Silvaco's legacy of technology leadership and are deeply committed to working together to continue providing innovative solutions for our customers and the design community."
"There is good synergy between Silvaco and Infiniscale, and this acquisition further advances Silvaco's growth initiatives to provide our customers with a robust TCAD-to-signoff set of design tools," said Silvaco's Chief Executive Officer David L. Dutton. "Infiniscale's impressive variation analyses technology strengthens Silvaco's SPICE portfolio, which includes SmartSpice circuit simulator, EM/IR/thermal analysis, standard cell and memory characterization, bringing unique accuracy, performance and economic value to support our customers' leading-edge IC designs. This acquisition increases our presence in the European market as the Infiniscale team will join our Grenoble, France site."
About Silvaco, Inc.
Silvaco, Inc. is a leading EDA provider of software tools used for process and device development and for analog/mixed-signal, power IC and memory design. Silvaco delivers a full TCAD-to-signoff flow for vertical markets including: displays, power electronics, optical devices, radiation and soft error reliability and advanced CMOS process and IP development. For over 30 years, Silvaco has enabled its customers to bring superior products to market at reduced cost and in the shortest time. The company is headquartered in Santa Clara, California and has a global presence with offices located in North America, Europe, Japan and Asia.
Press/Media Contact:
Silvaco press@silvaco.com