Silvaco and ALMA Consortium Partners Win 3.26 Million Euro Grant For Heat-Management Project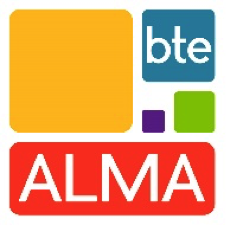 St. Ives, Cambridgeshire, UK, – September 1, 2015 – Silvaco Europe, Ltd today announced that the company and the ALMA consortium have been awarded €3.26 million by the European Commission for project ALMA, which is part of Horizon 2020, the European Union's (EU) Framework Programme for Research and Innovation (2014-2020). The goal of project ALMA is to enable the multiscale predictive design of heat-management materials and structures with applications in power devices, nanoelectronics, random-access memories, high-temperature turbines, and thermoelectric energy conversion.
"Heat management poses a great challenge to the development of advanced technologies," said the project coordinator, Dr. Natalio Mingo, of Commissariat à l'Énergie Atomique et aux Energies Alternatives (CEA) in Grenoble, France. "Predicting heat flow in complex material structures is inherently a multi-scalar problem requiring a simultaneous description at the electronic, atomistic, and mesoscopic levels and across time scales spanning more than eight orders of magnitude. Current approaches link several models, but no existing approach addresses all these scales simultaneously for thermal transport. ALMA aims to deliver a new design tool at the end of the project and suited to an industrial setting for the design of next-generation power electronics substrates."
According to project partner Salvatore Rinaudo, CAD and Design Services Director of STMicroelectronics Catania Italy, "Compound-materials-based technologies are one of the main strategic targets in STMicroelectornics' power-electronics roadmap. Having early and preferred access to the most innovative modeling solutions that enable the predictive design of heat-management materials and structures is a strategic priority for the company to compete in the power-electronics market."
"We are excited to work with our consortium partners to solve one of the industry's fundamental problems of heat management in modern electronics," said David L. Dutton, Chief Executive Officer of Silvaco. "Power electronics comprise a strong segment for Silvaco, and we are seeing increased adoption of our TCAD-to-signoff tools by leading power-device and power-IC customers worldwide. Supporting fundamental research that can deliver the next generation of power-electronics substrates is very well aligned with our strategic initiative of continuous innovation through collaboration with customers, partners and industry consortia to address and solve advanced technology challenges."
About ALMA Consortium
ALMA was launched in June 2015 and is funded by the European Commission through the Horizon 2020, the European Union's (EU) Framework Programme for Research and Innovation (2014-2020) for a three-year duration.
The ALMA Consortium is comprised of the following six partners:
Commissariat à L'Énergie Atomique et aux Énergies Alternatives, a French state-owned research organization
Ruhr University Bochum, Computational Materials Discovery ICAMS (RUB)
Johannes Kepler University, Solid State Physics Division (JKU)
Silvaco Europe Ltd. (Silvaco)
AIXTRON S.E. (Aixtron)
STMicroelectronics S.r.l. (ST)
To learn more about project ALMA, visit: http://www.almabte.eu/
About Silvaco, Inc.
Silvaco, Inc. is a leading EDA provider of software tools used for process and device development and for analog/mixed-signal, power IC and memory design. Silvaco delivers a full TCAD-to-signoff flow for vertical markets including: displays, power electronics, optical devices, radiation and soft error reliability and advanced CMOS process and IP development. For over 30 years, Silvaco has enabled its customers to bring superior products to market at reduced cost and in the shortest time. The company is headquartered in Santa Clara, California and has a global presence with offices located in North America, Europe, Japan and Asia.
Press/Media Contact:
press@silvaco.com
About CEA LITEN
The CEA (French Atomic and Alternative Energy Commission) is an internationally recognized technological research organization in the domains of energy, information and health technologies, and defence. The LITEN department hosting this project focuses on the research and development of advanced materials and nanomaterials for industrial applications, with over 1000 employees and a turnover of 150MEuro in 2013. This provides an ideal environment for the current project within the NMP call.
About STMicroelectronics
ST is a global leader in the semiconductor market serving customers across the spectrum of sense and power and automotive products and embedded processing solutions. From energy management and savings to trust and data security, from healthcare and wellness to smart consumer devices, in the home, car and office, at work and at play, ST is found everywhere microelectronics make a positive and innovative contribution to people's life. By getting more from technology to get more from life, ST stands for life.augmented. In 2014, the Company's net revenues were $7.40 billion. Further information on ST can be found at www.st.com.
About JKU
The Johannes Kepler University (JKU) Linz – Austria is, with its four faculties, the major education and research center in Upper Austria. According to the Times Higher Education Ranking "100 under 50", JKU is listed among the best world-wide 100 Universities under 50 years old. In particular, the Institute for Semiconductor and Solid State Physics is an internationally recognized hot spot for the growth, advanced characterization and processing of compound semiconductors.
About Aixtron
AIXTRON SE is a leading provider of deposition equipment to the semiconductor industry. The Company was founded in 1983 and is headquartered in Herzogenrath (near Aachen), Germany, with subsidiaries and sales offices in Asia, United States and in Europe. AIXTRON's technology solutions are used by a diverse range of customers worldwide to build advanced components for electronic and opto-electronic applications based on compound, silicon, or organic semiconductor materials. Such components are used in a broad range of innovative applications, technologies and industries. These include LED applications, display technologies, data storage, data transmission, energy management and conversion, communication, signalling and lighting as well as a range of other leading-edge technologies.
About Ruhr-Universität Bochum, Germany
The Interdisciplinary Centre for Advanced Materials Simulation (ICAMS) is a research centre at the Ruhr-Universität Bochum, Germany. ICAMS focuses on the development and application of a new generation of simulation tools for multi-scale materials modelling with the aim of reducing development cost and time for new materials. It is the goal of ICAMS to transfer these techniques to industrial research.