Silvaco Inc. Achieves Fourth Consecutive Year of Double-Digit Growth in Sales Bookings and GAAP Revenue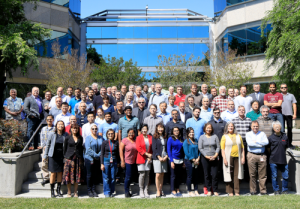 Santa Clara, Calif. – January 15, 2019 – Silvaco Inc., a leading global provider of software, IP and services to semiconductor companies for the design of ICs, digital displays and electronic systems, today announced that the company has achieved record GAAP revenue growth of 20% in FY2018 with growing profitability. The Company also realized record bookings growth of 18%. From 2015 to date, the Company's bookings and GAAP revenue have both doubled under the leadership of a new executive management team.
Significant contributions to the FY2018 business came from top tier companies in the mobile smart computing, digital display, IoT sensor and power management markets driven by their need for high-accuracy tools for semiconductor simulation, modeling, automated IC implementation and high-reliability circuit analysis.
"Silvaco is committed to becoming the world's #1 provider of Design IP, EDA, IC-CAD and TCAD solutions for targeted markets," said David Dutton, CEO of Silvaco, Inc. "To this end, Silvaco has made acquisitions, formed partnerships and made significant organic investments to ensure our continued growth. We are delighted by the acceptance of our proven design IP in the marketplace that resulted in sales growing by over 50%.
"We want to drive further growth by investing in new solutions for customers' technology needs including: atomistic TCAD for nano-materials; novel resistive RAM devices, flexible display simulation, and new power management components. We will also advance new EDA solutions such as AI-enabled design, high-sigma variability analysis and programmable custom analog design. I especially want to thank our employees, customers and partners for their contribution to our very successful 2018."
About Silvaco, Inc.
Silvaco, Inc. is a leading EDA tools and semiconductor IP provider used for process and device development for advanced semiconductors, power IC, display and memory design. For over 30 years, Silvaco has enabled its customers to develop next generation semiconductor products in the shortest time with reduced cost. We are a technology company outpacing the EDA industry by delivering innovative smart silicon solutions to meet the world's ever-growing demand for mobile intelligent computing. The company is headquartered in Santa Clara, California and has a global presence with offices located in North America, Europe, Japan and Asia.
Press/Media Contact:
press@silvaco.com