Xena IP Management
Xena® is a full-featured software platform for managing both the business and technical aspects of semiconductor IP.
For IP companies, Xena provides a complete operations platform for delivering and supporting products. For semiconductor companies, Xena provides an enterprise-level platform for managing, tracking, and controlling both your internal IP and all of the IP you purchase from suppliers.
Managing Semiconductor IP is Complex
As every IP manager knows, IP is a messy business. Here are some of the challenges that all semiconductor companies face when dealing with internal and external IP.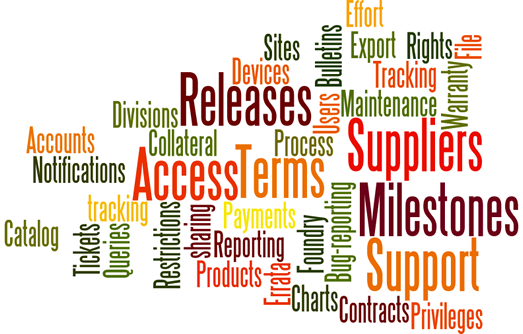 Xena helps you manage all of these issues and evolves with your business to keep up with new complexities as they emerge.
Key Features and Benefits
Enterprise IP Catalog
Many companies employ an "IP Yellow Pages" or similar private website that lists the IP that is available for use within the company.
Xena takes this to a whole new level, fully integrating the catalog feature with many other types of metadata that is part of IP reuse. Xena's IP catalog features include:
Summary view of available IPs with descriptions as brief or detailed as you want.
Full text search as well as search by user-defined categories (such as digital, analog, software) or user-defined attributes (such as maturity and silicon process).
Ability to attach collateral (datasheets, compliance reports, and so on) to each IP title so users have access to all the information they need in a single place.
Ability to restrict viewing of specific content on a user-by-user basis using a concept called "passports".
---
Release Management
Managing releases of IP is important; you need to maintain control of your IP to know which versions of the IP are being used in chips.
Xena is not a replacement for design management (DM) software like GIT, Subversion, or Clearcase. Xena is used in connection with the DM system of your choice, allowing you to:
Capture and lock from your DM system the precise version of the IP that you want in your designers' hands.
Specify where users can access the IP, either inside Xena or an any external location of your choosing (including your DM system itself).
Add errata, release notes, and other information that you want your users to see.
Specify the "state" of the IP, such as "development", "released", or "obsolete" so that the status of the IP is clear to users.
Automatically notify affected users when new releases of IP become available.
---
Access Control
Xena provides a license model that precisely controls who has access to the IP, which contract the IP use is associated with, and which device(s) are authorized to use the IP. A significant amount of metadata is packed around the access to IP:
List of users who can download or access the support system in connection to that IP.
Visibility into the maintenance and support terms, including the ability for managers to receive alerts and reports regarding expiring maintenance, support, and even warranties.
Ability to track downloads to see which users accessed the IP and when they accessed it.
---
Contracts
Xena provides a comprehensive model for keeping track of IP contracts, allowing all the relevant information about an IP license to be kept in one place and tied into the Xena data model. Here are just some of the things that are captured by default in Xena:
Access period, which can be a range of dates for a subscription type license or perpetual for contracts that are of a per-use or unlimited-use type.
Maintenance, support, and warranty periods.
Use restrictions, such as forbidding use in certain countries, or any other area.
Payment terms.
Milestones for IP contracts that specify achieving a milestone as a condition of payment.
---
Support
Xena provides a full-featured support infrastructure that makes it easy for you to help your users. The key features of the support system are the:
Users to open tickets against IP for which they have a license (and an active support agreement), allowing them to assign each issue a type (bug, question, support) and severity (high, medium, low).
Assign specific experts in your company to specific products, then assign support obligations to people in that group on a per-license basis. For example, if your customer is in Asia, you can assign the right person on your team in Asia to support that customer for that IP product.
For your support team, log private comments and log support effort so that you have a record of the efforts you are expending.
Send important notifications to customers as a whole, by company, by license, or by product.
Securely share files (test cases, screenshots, and so on) without the need for extra encryption.
Monitor user activity, such as seeing when a user downloads an IP package, creates a ticket, or shares a file.
Track the entire support history of a particular support issue.
---
Devices
Xena provides also provides a comprehensive model to store information about devices that contain IP licensed to them. As with all Xena features, the elements of the device model flow into other elements of Xena to provide a fully-integrated system that includes all the data associated with IP use. The device information contained can be customized (like most of Xena), but out of the box, the following types of information are captured:
Name of the device, internal names, process, foundry, node, and other basic information to describe the device at a high level.
The IP that is contained in the device.
The contracts associated with the device.
Milestones associated with the project, such as project start, tape-out, and EOL. These milestones are useful when coupled with the milestones specified in contracts so that when a project manager marks a device milestone complete, it may serve as an authorization to make a contractual payment.
---
Reporting and Charts
Xena can hold a lot of data. That data needs be accessed easily so users can get the information they need quickly. Xena can produce a variety of reports, and we are constantly implementing new reports that our customers ask for. Reports available today include:
Support
Tickets
Devices
Licenses
Financial
Products
Users
Contracts
Milestones
Each of these reports can use custom filters to provide the exact information you are looking for. You can also save report setup information so that you can easily rerun the reports in the future.
---
Fingerprinting AND 'DNA' Analysis
The newest Xena feature provides you with the ability to analyze your chip design database to detect which IP is present there and to take corrective action, as needed.
---
For more information on Xena, contact ip@silvaco.com.